I grew up with Russian Tea Cookies as Christmas Cookies. This recipe comes from my Nana who made these for my mother's family every year for Christmas. When my mother started making them she would tell us stories about her growing up, about how my Nana would only serve the unbroken nice looking ones to the company coming over for Christmas dinner so my mother and her brothers would be able to eat any of the broken cookies. So when my Papa would come home, he would sneakily (or not so sneakily) break some cookies so my mother and her brothers could have a few extra to nibble on.
The recipe is also the same recipe used for Mexican Wedding Cakes, but I think the texture is completely different. I find that Mexican Wedding Cookies are too doughy for my tastes and there's just too much cookie for me in one package.  This version, just melts in your mouth like a buttery  meringues…with nuts…and powered sugar. So really, they melt in your mouth with a little bit of crunch. But, I maintain that the nuts are healthy, therefore the cookie is healthier than it could be.
Now that my mother makes them, we're not allowed to eat the nice ones either. Funny that even as the next generation makes them they're still rather fragile to make. But my dad doesn't break any for us kids to eat. We have to wait for my Papa to come over for Christmas Eve dinner and break a few extra for us.
I never got to watch my Nana make these, she was diagnosed with early on-set Alzheimer's before I was born and died when I was in second grade. But, I still have a part of her, in watching my mother's and uncle's faces as they eat the cookies, remembering their childhoods, and I still have her handwriting:
And on a less depressing note, a fun thing you can do with them is build things, like mountains of cookies on your plate and pretend people can't tell you've taken waaaay too many:
And finally, and most fun of all, you can spell things with them:
Come join the fun at the My Baking Addiction and GoodLife Eats Holiday Recipe Swap sponsored by Beanilla.
If you enjoyed my post please click the badge below to vote for me to win a swanky basket from Beanilla!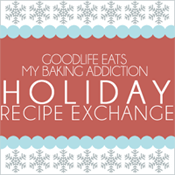 Russian Tea Cookies
Makes a small mountain of cookies
1 cup butter
3 cups flour
1 cup finely chopped nuts
3 TBSP powdered sugar
2 TBSP ice water
1 TBSP vanilla
Preheat oven to 350 degrees F.
Cream butter in mixer for a few minutes by itself, then add in powdered sugar and mix together thoroughly.
Add in flour, 1 cup at a time, scraping the bottom between each addition. Add in vanilla, water and nuts and mix together.
Pour out mixture on to a clean work surface and knead with your hands until well blended.
Roll out until about 1/8 inch thick and cut into 2.5″ by 1.5″ rectangles (or, as I said to my mother: one bite by two bites).
Bake for about 10-15 minutes, the cookies don't get all that brown, but they do want to be firm.
Dunk into powdered sugar while still warm. Allow to cool, then serve.